Beginning: 05.04.2004
End: 04.04.2005
Collaborating organisations:
Faculty of Social Work, University of Ljubljana, Slovenia
Coordinator: Augsburg college department of social work, Minnesota, USA
Keywords:
global social work, video conference, internet
Summary: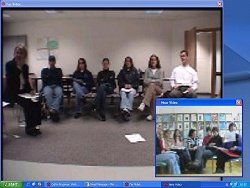 Description: An international internet video dialogue in global context with global partners (groups of students and their teachers) from the departments of social work in three countries, Minnesota (Augsburg college department of social work), Slovenia (Faculty of Social Work, University of Ljubljana) and Singapore
Procedure: Slovenian students are online with their U.S. partner 5 times for 2 hours in November and December participating in an international internet video dialogue. The dialogue probably continues in 2005 with the Singapore parter. Students engage in individual preparatory work on suggested texts, in preparatory group discussions and in e-mail conversation with the students form the global partner countries.
Purpose: Students will identify their own approach to intercultural communication and its value in promoting global relationships amongst students and human service professionals. The results of the intercultural dialogue will contribute to the expansion of global context of our curriculum.
Content: Exchanged discussion concerning culture, characteristics, effective cross cultural communication, culture conflict and common human condition. Students identify their own skills in intercultural communication, relationship building and have intercultural dialogue about their responsibilities in society. In the context of social service provision, students are asked to examine personal values in relation to culture, race, poverty, gender, sexual orientation, family/individual self-sufficiency, age, disability, religion etc.
Teachers, organizing the project: Prof. Rosemary Link, PhD., Minnesota; Prof. Lea Sugman Bohinc, PhD., guest lecturer Prof. Gabi Cacinovic Vogrincic, PhD., Slovenia; Prof. Tiong Tan, PhD., Singapore. Technical support: Robert Bill, Minnesota; Marko Mesec, Slovenia.