CONSTRUCTIVE SOCIAL WORK IN INTERNATIONAL PERSPECTIVE
Organized by the Faculty of Social Work, University of Ljubljana, Slovenia, in collaboration with Augsburg College, Minneapolis, Minnesota, Unites States of America
Faculty of Social Work (FSW), University of Ljubljana, has been collaborating in the exchange with Augsburg College, Department of Social Work, Minneapolis, Minnesota, for nearly two decades. The exchange of students and teachers follows a three-year cycle logic so that the first year an International Sumer School of Social Work is organized in Slovenia, the second year it is organized in the U.S., followed by a one-year break. An International Summer School last from 10 to 14 days. The bilateral agreement on collaboration includes a consensus that the host institution covers the expenses of accommodation as well as the cost of the program-based transportation. Up to 10 students from each of the partner higher education institutions can participate in the exchange.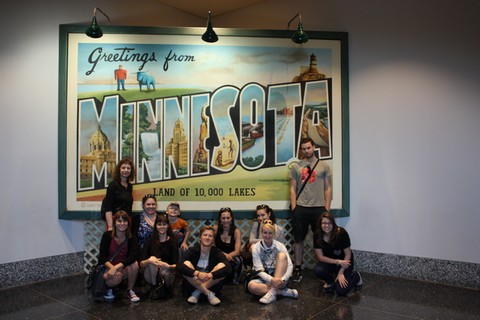 The International Summer School of Social Work encompasses the following activities: lectures, field visits, social and cultural activities, sightseeing. The students' tasks include: cooperation with the teachers in the organization and realization of the program at the host faculty, organization of social life of the guest students during the time off the program (evenings, weekend), introducing the Slovene/U.S. social policy and social welfare system, social work concepts, research, best practices, and education (along with the students' sharing their field practice experiences) etc. The idea of the exchange is that the students who participate in the Summer School the first year, if possible, continue their collaboration the following year.
The International Summer School program is evaluated in ECTS, in Slovenia as extracurricular activity with a specified teaching plan graded with 5 ECTS for each of the two exchanges.
The precondition for the participation of Slovene students in Summer School is active knowledge of English language, but other skills are expected, too, such as team working, social networking, taking responsibility for one's obligations, commitment to the project etc. Unfortunately, one of the conditions is also a student's financial possibility to cover the cost of flight tickets and other living costs not provided by the bilateral agreement.
The members of the 13th International Summer School of Social Work Organizing Committee are: Lea Šugman Bohinc, Ana Jagrič, Tadeja Kodele, Klavdija Kustec, Nina Mešl, Gabi Čačinovič Vogrinčič.
The 13th International Summer School of Social Work will take place at the FSW, UL, from June 26 to July 7, 2017. Based on the experience that all the previous 12 Summer Scools have been unanimously evaluated as successful we are convinced this will continue with the 13th Summer Scool, too.
For the Organization Committee:
Lea Šugman Bohinc